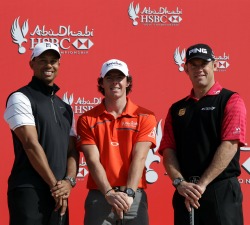 Tiger Woods, Rory McIlroy and Lee Westwood pose in China. (Getty Images)
By Shane Bacon

The WGC-Cadillac Championship kicks off this Thursday, and all top-50 players are in the field for the stacked event. And while all of the guys in the field have a chance, we decided to give you an idea of what a win would mean for some of the bigger names in the field.
Rory McIlroy (World Ranking: 1) -- A win would really cement all those "next Tiger" stories, and show that while he's happy to win events like Honda Classic, he isn't exactly content with one win early in his season. Rory probably has the most pressure this week because he has to back up a big performance at the Honda, and if he can pull a victory out at Doral, it would really show his internal fortitude.
Luke Donald (WR: 2) -- Lost in all this McIlroy-Woods chatter, we must remember that Donald was the No. 1 player in the world before Rory took it from him, and still has tons of game. A win by Donald would show that he's tougher than we think, and is really ready to fight against the best for big wins.
Lee Westwood (WR: 3) -- Talk about lost in the shuffle, Westwood closed with a final round 63 at the Honda Classic, but barely anybody remembered it because of Tiger's 62. He has barely won anything on American soil, but his game is sharp, and if he won it would mean that he is finally ready to claim victory at events with all the big names in them.
Phil Mickelson (WR: 12) -- You never know what you're going to get from Lefty these days, but his win at Pebble Beach showed he is still hungry to win, and a victory at Doral this week would show that 2012 might be another year that Mickelson goes wild. He's the type of player that can still win four or five events a season, and if he won at the Blue Monster, we'd all have to put him first on our Masters prediction lists.
Tiger Woods (WR: 16) -- A win for Tiger? It would mean everything. He could stop answering questions about how close he is. He could finally get a real tournament monkey off his back (unlike the small field at the Chevron). He would show that he can play well back-to-back weeks and would tell the rest of the golfing world that he isn't exactly ready to hand over the game to the younger generation.
Check out the Eye on Golf Facebook page and follow Shane Bacon and Eye On Golf on Twitter.