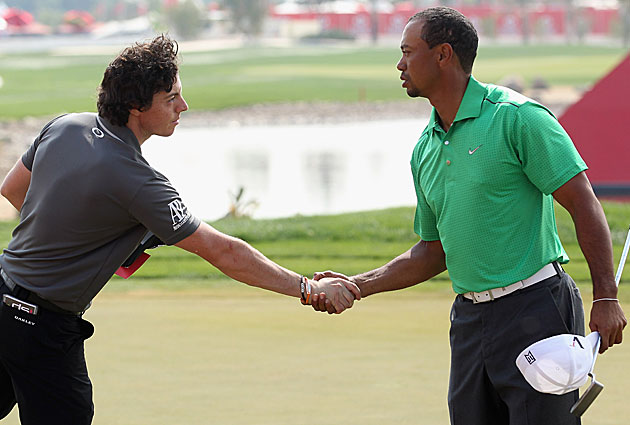 Tiger Woods and Rory McIlroy shake hands earlier this season in Abu Dhabi. (Getty Images)
By Shane Bacon

We know, we know, predicting things in golf is absolutely impossible, but the interesting nature of match play has us thinking ahead. What are the best possible matches that COULD happen this week at the Accenture? These are our favorite possible matchups.

Nick Watney vs. Tiger Woods (second round) -- Any match Tiger is in will be featured, but I'd love see a player like Watney go up against him Tiger in a fairly even match.
Graeme McDowell vs. Hunter Mahan (second round) -- I'm fairly certain Mahan would love a piece of McDowell in match player after what happened at the 2010 Ryder Cup, and it would be the featured round of Thursday.

Sergio Garcia vs. Keegan Bradley (second round) -- I'd like this just for the pre-match ceremony where Garcia hands over the "Incredibly Long Pre-Shot Gold Medal." He's held it for so many years!
Adam Scott vs. Dustin Johnson (third round) -- I just like the idea of zero University of Arizona girls going to class on Friday so they can head out and see Mr. Scott vs. Mr. Johnson.

Lee Westwood vs. Tiger Woods (third round) -- A clash of titans before the quarter-finals? Yes please.

Rory McIlroy vs. Sergio Garcia (third round) -- Probably the best chance for McIlroy to get upset out of his bracket, Garcia is headed in playing some seriously good golf, and two of the bigger names in the game would bring tons of attention to the Gary Player bracket.
Martin Kaymer vs. Bubba Watson (third round) -- I think just about everyone would be excited to see this rematch of the 2011 semi-finals, just as long as Kaymer leaves the scarf at home.
Rory McIlroy vs. Jason Day (quarter-finals) -- I have a feeling this will happen, and I'm absolutely jazzed about it.

Ben Crane vs. Kevin Na (quarter-finals) -- Can an entire match be put on the clock? Can even the guy putting people on the clock be put on the clock? No chance this isn't the final match of the day. It has to be!
Rory McIlroy vs. Tiger Woods (semi-finals) -- Do I really need to explain why this would be awesome?

Luke Donald vs. Tiger Woods (finals) -- Because I'd really like to see Tiger get his first win in something like this, over a bunch of big names, the last being the world number one. I think that would really show just where he is with his golf game, and give the guy about a 400 percent boost, confidence-wise.

For more golf news, rumors and analysis, follow Shane Bacon and Eye On Golf on Twitter.