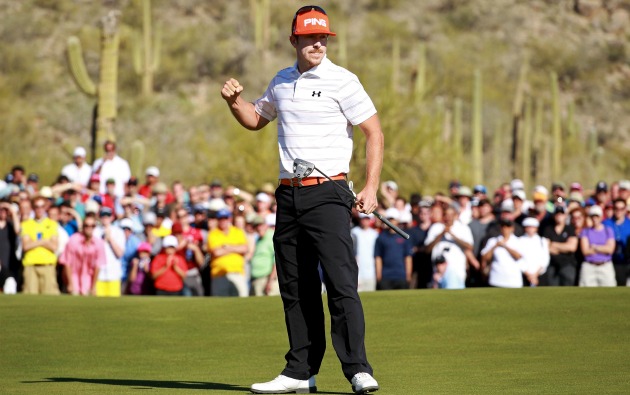 Hunter Mahan leads our list of winners from the Accenture Match Play. (Getty Images)
By Shane Bacon

The Accenture Match Play is our first really big tournament of the season, and with so many talented people involved, it brings us our first winners/losers of 2012. So who killed, and who tanked? Read on and see ...
Winners
Hunter Mahan -- Obviously. Mahan played some incredibly inspired golf, beating some big names in the game and stepping up to Rory McIlory, who was playing for something much bigger than just the Marana trophy. Also, with his recent Presidents Cup success, Mahan has shown he's a match play titan, and is music to Ryder Cup captain Davis Love III's ears.
Ping Golf -- They had three of the top four finishers rocking their new equipment, and the talk of the week was Mahan's new Nome putter that seemed to help Hunter knock in just about any big putt he needed to make.
Mark Wilson -- This guy needs to be known more than he is, and this week showed that no matter how short he hits it off the tee, his iron play and short game are second to none. Wilson has won three PGA Tour events in just over 13 months. People need to start acknowledging him as an A-class player in golf.
Sang-Moon Bae -- Look at the list of players Bae knocked off before losing to Rory Mcilroy; Ian Poulter, Charl Schwartzel, and John Senden. Sure, the last wasn't the biggest name possible, but Bae made McIlroy sweat, and showed that he's a name we must remember when major championship week rolls around.
Losers
Rory McIlroy -- Yes, he made it to the finals, and yes, he nearly became the top dog in golf, but if McIlroy wants to be The Man, he must close these types of tournaments out. He has played some incredible golf over the last few months, but winning is everything, and his game in the finals seemed shaky at best.
Tiger Woods -- Anytime Tiger isn't in the hunt he's considered a loser, but boy did he look lost this week with his golf swing. When the season started I thought Woods was close with his game. Now? I'm not so sure even he could be convinced he's ready to win a PGA Tour tournament.
Luke Donald -- You're the number one ranked golfer in the world, and no matter who you're playing, you can't lose in the first round of a tournament you're defending. Donald showed that while the rankings say he's the best, his game might not agree.
Rickie Fowler -- Another week, another disappointment. I think Fowler is a good player, but it seems his name rings louder than his game. Fowler lost in the first round to a veteran that admitted after his match that he'd spent the last week away from golf. Not the best endorsement for Fowler's time to win PGA Tour events.
For more golf news, rumors and analysis, follow Shane Bacon and Eye On Golf on Twitter.