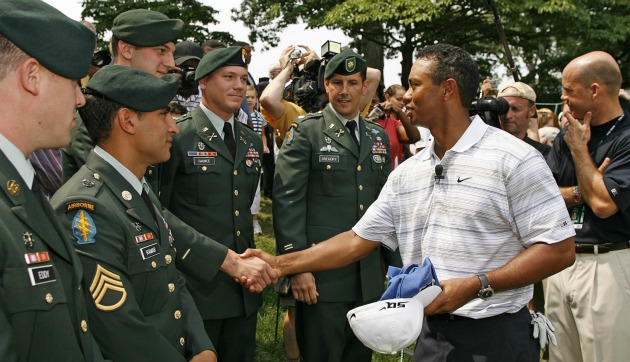 Tiger shakes hands with members of the Armed Forces at the 2007 AT&T National. (Getty Images)
By Shane Bacon

Judging by his brains, good looks and killer instinct, it seemed when Tiger Woods came into our lives he had the ability to be anything he wanted. Sure, he was a golfer since basically birth, but his larger than life persona made it seem like he could be a CEO, professional baseball player or even the president.
But one of the things you probably didn't expect to hear is that at one point, Tiger seriously considered becoming a Navy SEAL.
Golf Digest has some excerpts from Hank Haney's tell-all Tiger book, and one of the quotations from Hank says that Tiger once told him he seriously was considering leaving golf to join one of the most elite forces in our military.
"Tiger was seriously considering becoming a Navy SEAL. I didn't know how he'd go about it, but when he talked about it, it was clear he had a plan....I thought, Wow, here is Tiger Woods, greatest athlete on the planet, maybe the greatest athlete ever, right in the middle of his prime, basically ready to leave it all behind for a military life."
As Mr. Wall points out, there isn't exactly a time indicated in Haney's quotes, but to say "the middle of his prime" meant that it had to have been when Woods was winning all those majors, not when his personal life was in shambles.
That, in itself, is pretty incredible because it shows that Tiger really thought about doing this for no other reason than to serve his country.
Tiger's dad, Earl, was a Green Beret in the United States Army so it isn't like Tiger didn't have a military background, but it's incredible to hear he even thought to do this with the level of fame and success he reached at this certain point.
Check out the new Eye on Golf Facebook page and follow Shane Bacon and Eye On Golf on Twitter.